QUEEST TRAILHEAD: five minutes from downtown Sicamous.
Queest (pronounced like quest) is our oldest sledding area and on a clear day this area has some of the best views in British Columbia. Overall, the terrain is a little steeper on Queest than Blue Lake but the area has something for all skill levels. This well established area with up to 35 square kilometers of sledding country with deep powder and exciting hill climbs. There is a meadow area around the cabin and further north there are some inclines that will require a little extra power.
Elevation is over 2000 meters allowing for good sledding into the spring. The access trails have wonderful views of the Eagle Valley and both Mara and Shuswap lake. A ride up to the A-frame cabin is worth the time just for the scenery. Extra care is required on Queest when the weather is marginal as there are some cliffs northeast of the cabin that need to be avoided.
Please check the avalanche forecast for the "North Columbia" region before heading out to this area.
The maps on this website are for general reference only. These mountain areas can be treacherous at times and weather can change quickly, so please use caution when snowmobiling in the mountains and follow safe snowmobiling practices. Whenever possible, sign in at the cabins to report where you are planning to sled for that day and come prepared with overnight survival gear.
Emergencies can be reported to 911. Remember service is not always available in some mountain areas. (*You may find cell phone coverage at Blue Lake, Owlhead and Queest when you are at the height of land.*)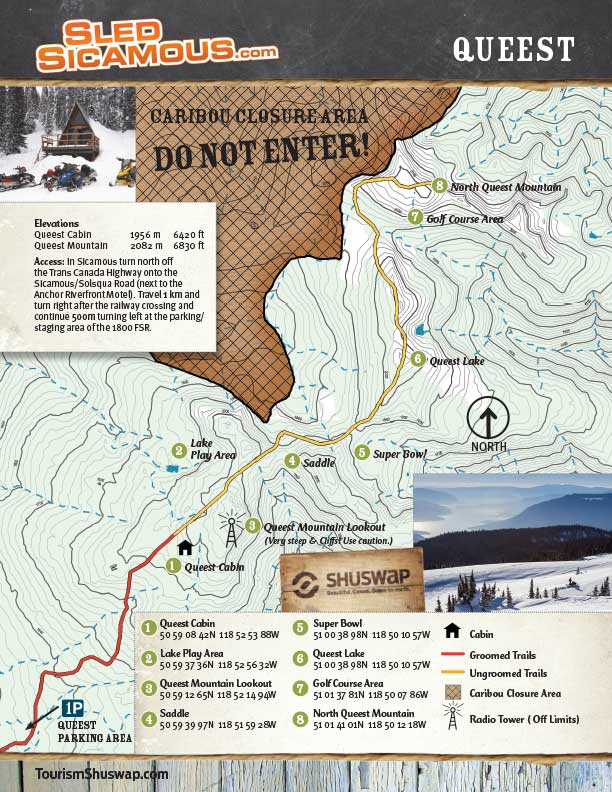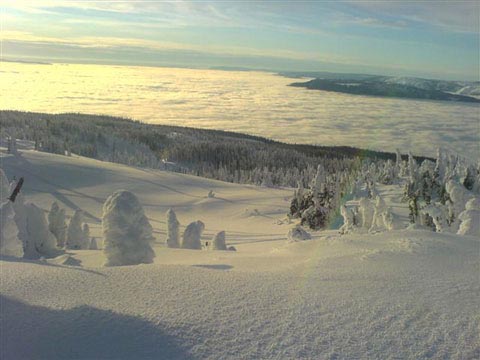 QUEEST SLEDDING AREA
QUEEST CABIN