OWLHEAD TRAILHEAD:  just 3 minutes from downtown Sicamous.
This popular area features a great log cabin and a varied riding terrain for everyone from novices to extreme sledders. With an elevation of over 2000 meters, Owlhead ensures good riding until late spring. This is an excellent area for families and novice sledders and it is a great place for those who like to climb. The area is large and for those who like to explore, you will need to carry lots of fuel. Sledders can visit our neighbors to the south at Hunters Range.  If you are looking for some incredible mountain vistas, Mara Mountain look-out is one of the highest peaks in the North Okanagan.
The cabin at Owlhead is a work of art in log building and it is worth the ride up, just to see it. The cabin was built by club member Tom Jackson of Leatherwood Log Homes and a crew of club volunteers.
Please check the avalanche forecast for the "South Columbia" region before heading out to this area.
The maps on this website are for general reference only. These mountain areas can be treacherous at times and weather can change quickly, so please use caution when snowmobiling in the mountains and follow safe snowmobiling practices. Whenever possible, sign in at the cabins to report where you are planning to sled for that day and come prepared with overnight survival gear.
Emergencies can be reported to 911. Remember service is not always available in some mountain areas. (*You may find cell phone coverage at Blue Lake, Owlhead and Queest when you are at the height of land.*)
IMPORTANT: Sledding is not permitted in the Kingfisher Ecological Reserve. Please see map for details.
OWLHEAD SLEDDING AREA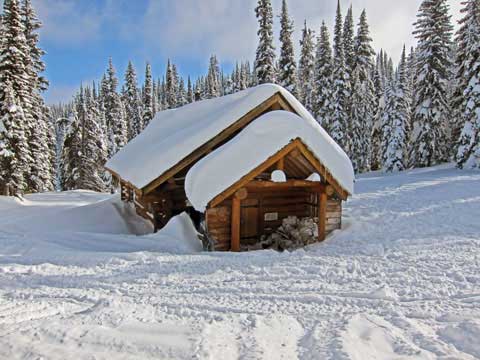 OWLHEAD CABIN