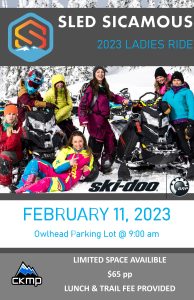 Ladies Ride
Date: February 11, 2023, 9am
Location: Owlhead Parking Lot (1300 McLean-McPherson Road, Sicamous, BC)
45 Spots Available – Ride your own sled, get instruction from our guides, a Sled Sicamous trail pass and lunch – $65pp
Skidoo will be providing a limited number of 2023 Ski Doo Gen 5 Summit X Experts for the event. Contact kayla@carlkuster.com with questions concerning the event or if you're interested in test riding the Gen 5 for the day.
Payment Link: https://qw347.infusionsoft.app/app/storeFront/showCategoryPage?categoryId=34.
If you have missed out on signing up, please know you're welcome to come up for the day with your own group, you just won't receive instruction. Stop by the Owlhead cabin and warm up with a hot meal around the bonfire.  Meals to anyone not attending the ladies ride will be by donation.
ALL MONEY RAISED WILL BE DONATED TO THE EAGLE VALLEY SNOWMOBILE CLUB.
*NOTE THAT YOU ARE RESPONSIBLE FOR YOUR OWN AVALANCHE GEAR AND TRANSCEIVER*